THANKS FOR STOPPING BY MY ONLINE SHOP :)
FRESH BATCHES MOST WEDNESDAYS AT 11AM AEDT
KEEP UP TO DATE WITH MY DODGY DOINGS ON Instagram
@dodgy.paper
Thanks, stay creative and Stay Dodgy :)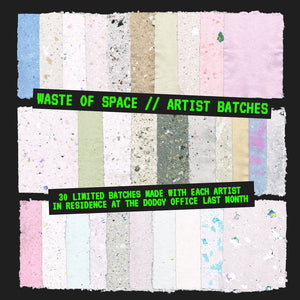 IN SEPTEMBER WE INVITED 30 ARTISTS TO BRING THEIR PAPER WASTE INTO THE DODGY OFFICE IN CREMORNE TO GUIDE THEM THROUGH MAKING A CUSTOM BATCH OF PAPER. THEY THEN SPENT TIME IN THE LOUSY LAB CREATING A CUSTOM RECYCLED INK COLOUR, TO THEN CREATE AN ARTWORK WITH ON THEIR CUSTOM BATCH FOR THE WASTE OF SPACE : EXHIBITION. NOW YOU CAN GRAB A SLICE OF EACH ARTISTS CUSTOM PAPER BATCH, AS WELL AS THEIR CUSTOM INK COLOUR WITH IS AVAILABLE OVER AT : LOUSY INK
VIEW THE COLLECTION
FRESH BATCHES FROM THE DODGY GARAGE
---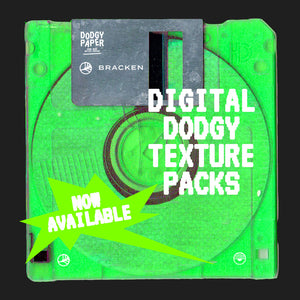 DODGYS GONE DIGITAL
WE HAVE COLLABORATED WITH OUR MATE TIM FROM BRACKEN DESIGN TO RELEASE A COLLECTION OF DIGITAL DODGY TEXTURES TO USE WITH A RANGE COMPUTER SOFTWARE. 5 SUPER VERSATILE TEXTURE PACKS AND A 'DODGY EDGER' BRUSH BACK AVAILABLE.
HEAD OVER TO BRACKEN.DESIGN TO CHECK THEM OUT!

CLICK HERE :)
LET'S COLLABORATE!
GOT A DODGY PROJECT IN MIND? WANT TO TURN YOUR OLD ART INTO A FRESH BATCH FOR YOUR NEXT SHOW? LET'S TALK.
CONTACT THE PULP PROFESSOR